GPS Jammers
To prevent GPS monitoring on your person, cell phone, or vehicle, a GPS signal blocker from The Signal Jammer will stop tracking signals.  Maintain your privacy, keep your movements discreet, and avoid unauthorized surveillance by utilizing a jamming device.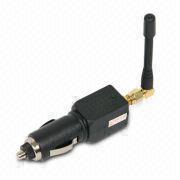 Show Filters
GPS Jammers for Sale to Prevent You From Being Tracked
GPS Blocker Selection
Choose the Right Model From Available GPS Jammers for Sale
Selecting the correct gps jammers can be easily done by determining your usage parameters.  It is important to make the distinction between GPS jamming to prevent vehicle tracking (signals GPS L1 and GPS L2), and to prevent tracking as well as blocking navigation (coverage from GPS L1-L5).
To protect your vehicle from tracking systems, the small TSJ-GJ2000 is best for covering GPS L1.
For a step up in vehicle tracking protection, look to the USB model which covers both GPS L1 and L2.
For protection against tracking, as well as blocking navigation (signals GPS L1-L5), you can't miss with the TSJ-GPSHighPower, or the extremely powerful PRO version, the TSJ-GPS-Pro-Handheld, both of which offer take-with-you portability in a handheld GPS blocker with tracking device protection and navigation blocking.
Our combination models offer both cell phone jammer and GPS jamming coverage in a single unit.
If you need help choosing the correct model, please contact us and our helpful staff will make sure you choose the unit specific to your application.  More information? See this blog page.